SCHOOL
---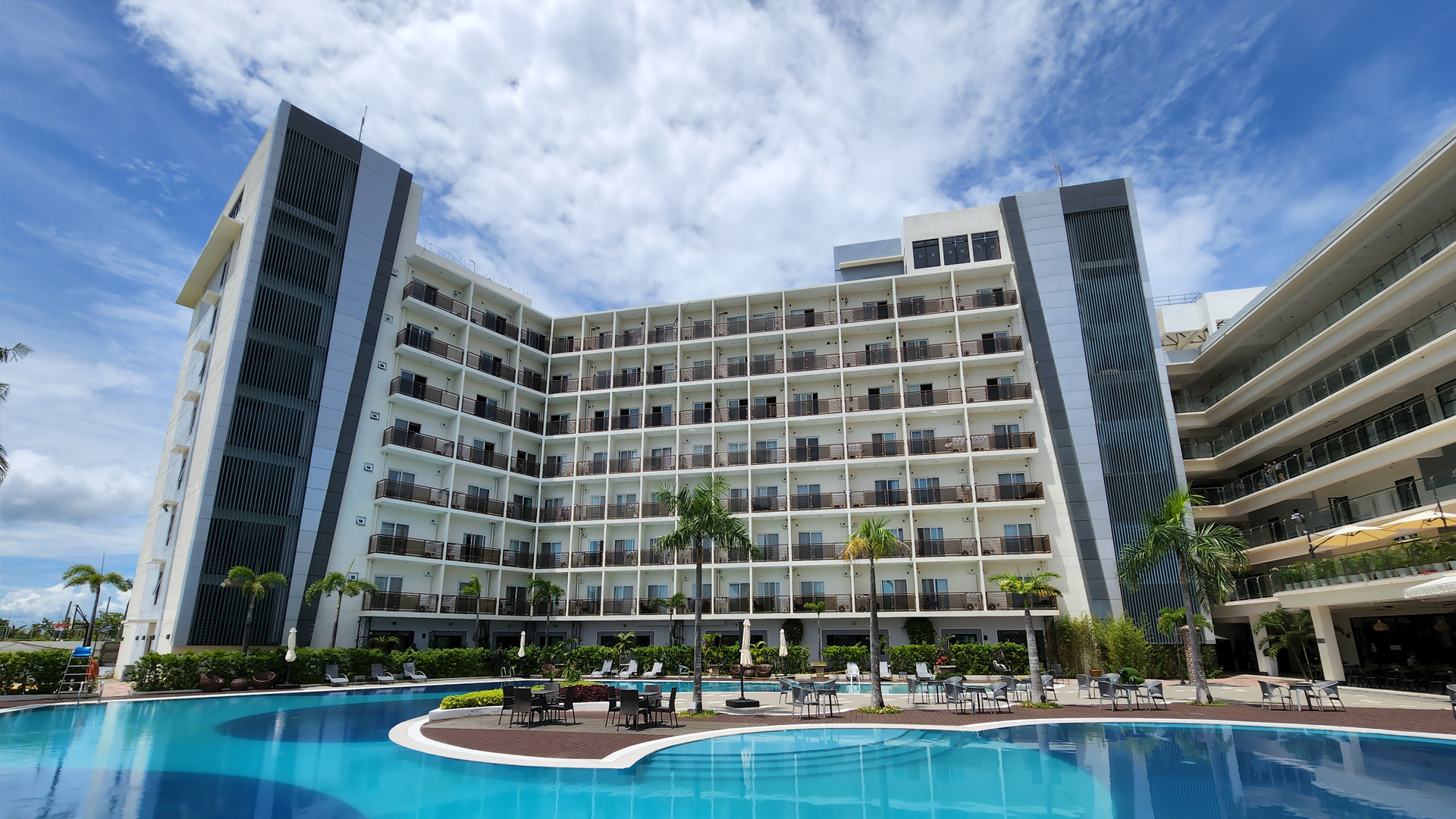 The second building was completed in 2022. It is a resort-like campus that provides students a relaxing atmosphere while studying. There are nearby restaurants and attractions that students can visit during the weekends.
---
Campus Map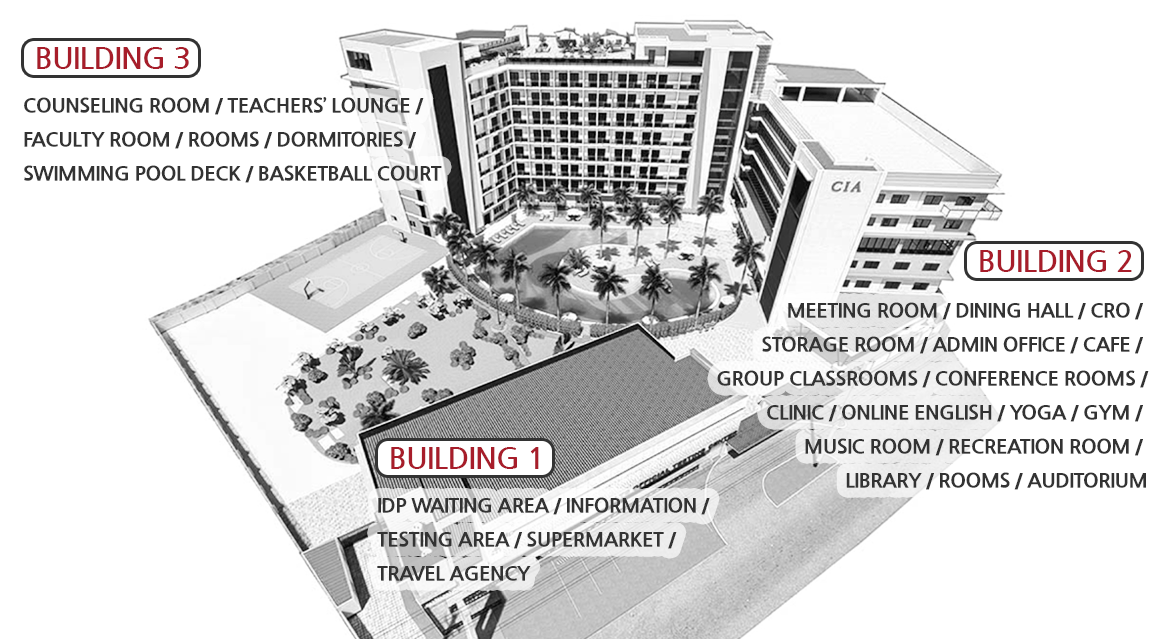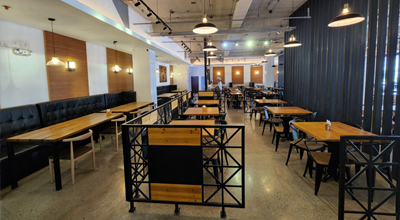 Dining Hall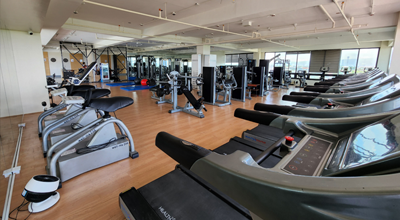 Gym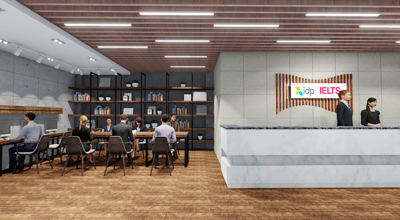 IDP CENTER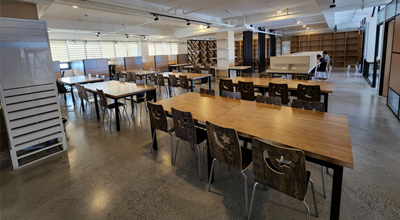 Library and Study Hall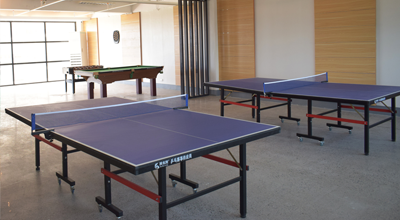 Recreation Room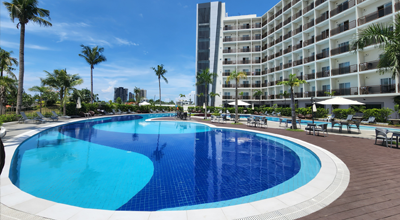 MAIN SWIMMING POOL
DORMITORY
---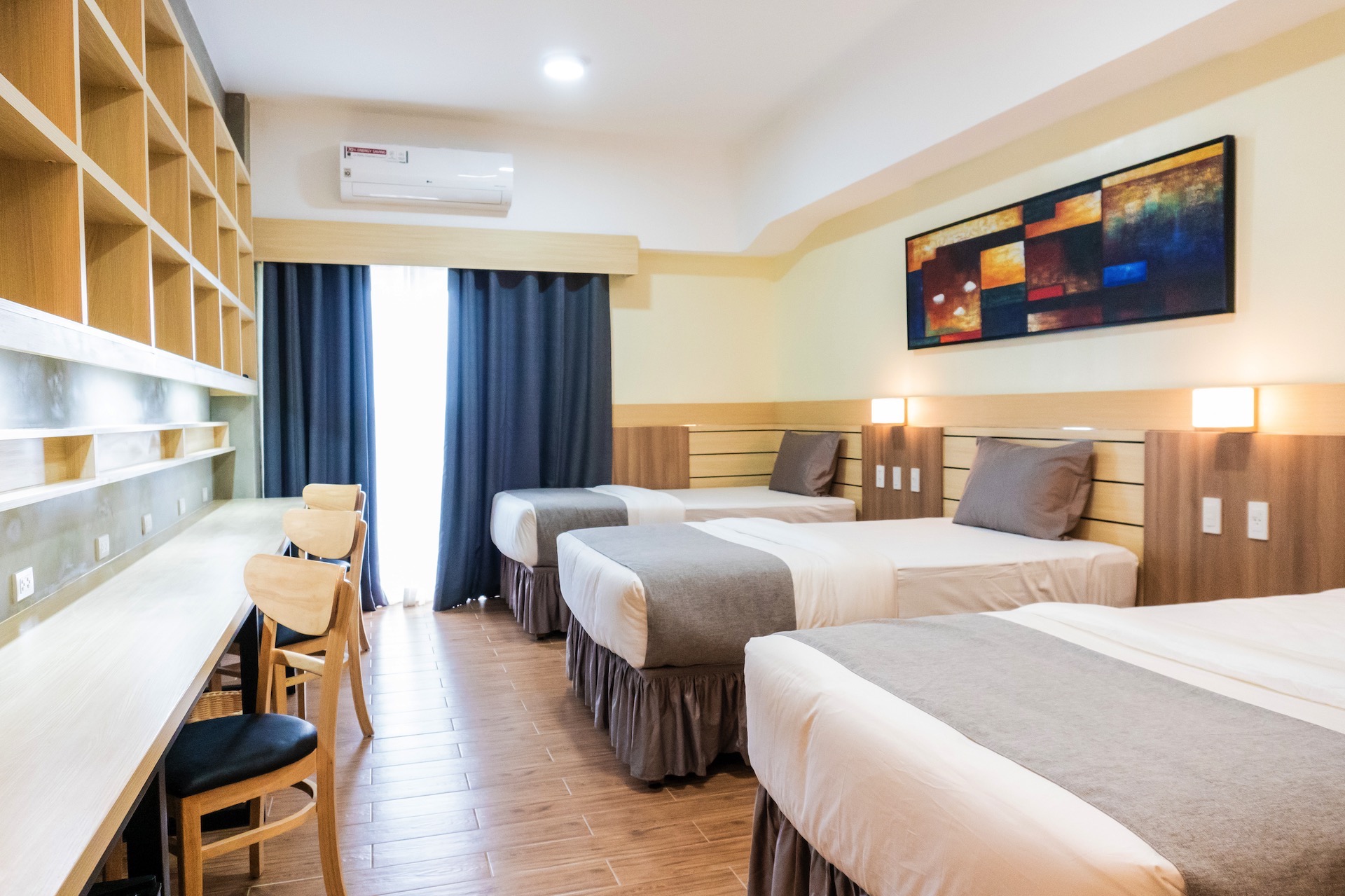 DORMITORY
Our selections of accommodation are rooms with single, twin beds, triple beds, or quadruple beds. For Single Room, students can focus on studying and enjoying their own personal space. Twin Room is another option when a roommate is needed to talk with; it can be a friend or another student. While with Triple Room and Quadruple Room, they are designed for students to practice speaking with other students of other nationalities. What's more is that rooms are designed close to school grounds for students to minimize transfer time
On-Campus Dormitory
Closet with Key
Air Conditioner
※ Wi-Fi is available in the dormitory rooms.
However, connectivity may be limited during class hours and break time.
Breakfast, Lunch and Dinner
CIA Dining Room
Daily Test : Monday-Thursday
All Students are required to take the test between 7:20-7:55AM.
CLASS
---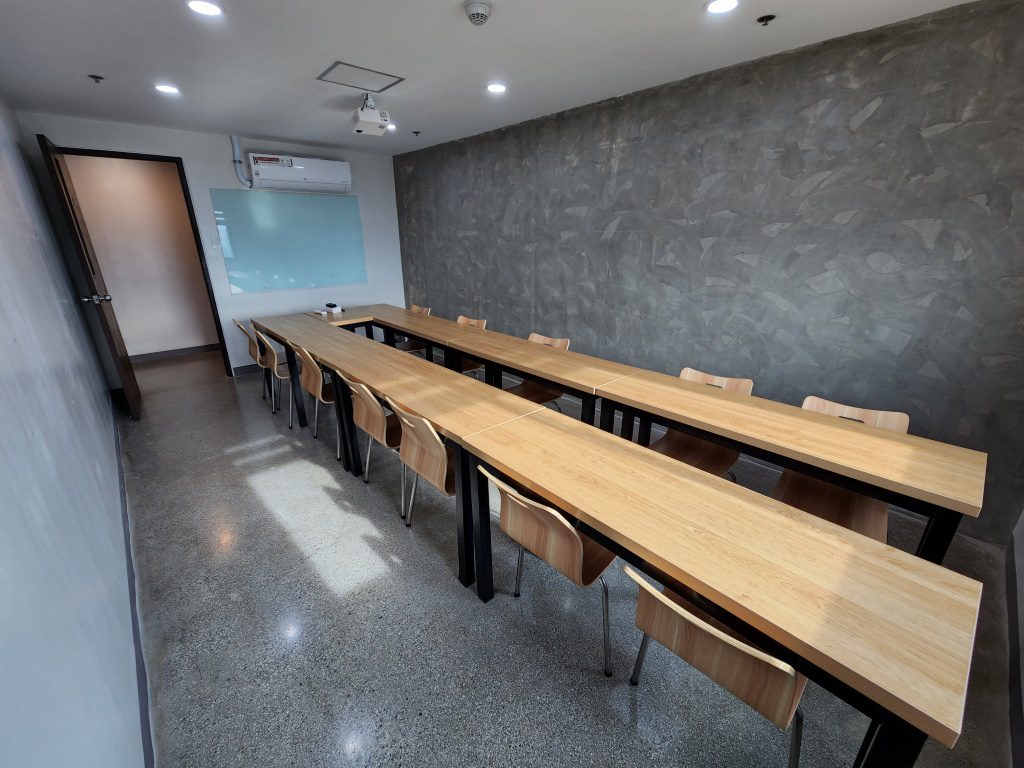 CLASSROOMS
We have state of the art classrooms, introducing multiple-screens for multi-use in group classes. All classrooms are equipped with tools for easy use. Classes offered are 1:1 Class, Small-Group Class, Medium-Group Class, and Big-Group Class.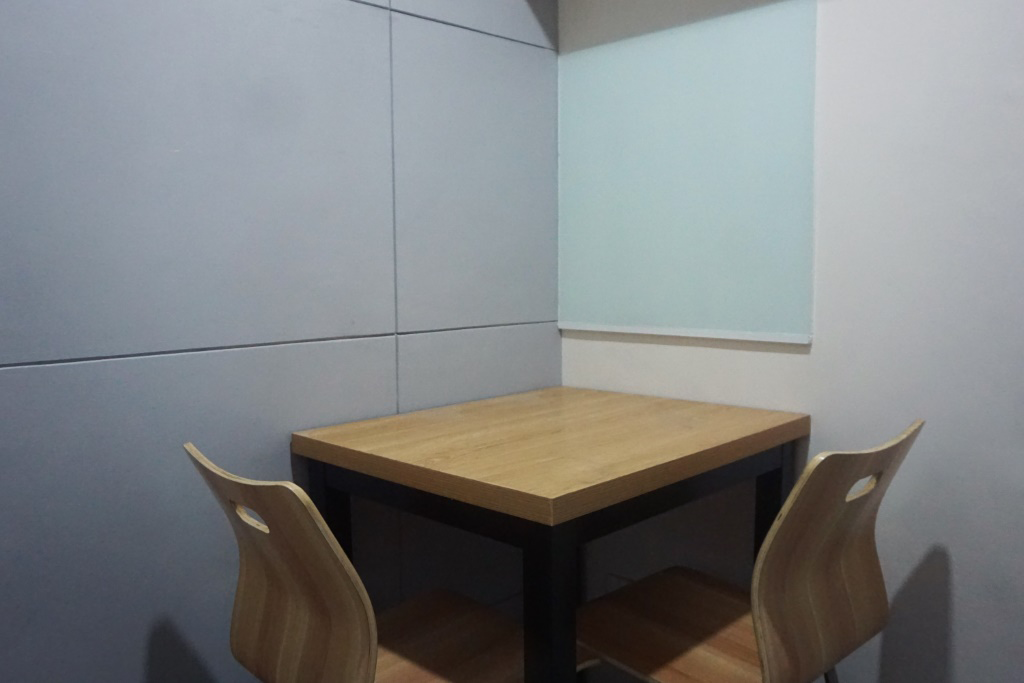 MAN-TO-MAN CLASSROOMS
These classrooms include a bigger whiteboard and a table where students can put their things on. In this kind of setting, students can focus more on their classes and able to give their 100% attention to the class.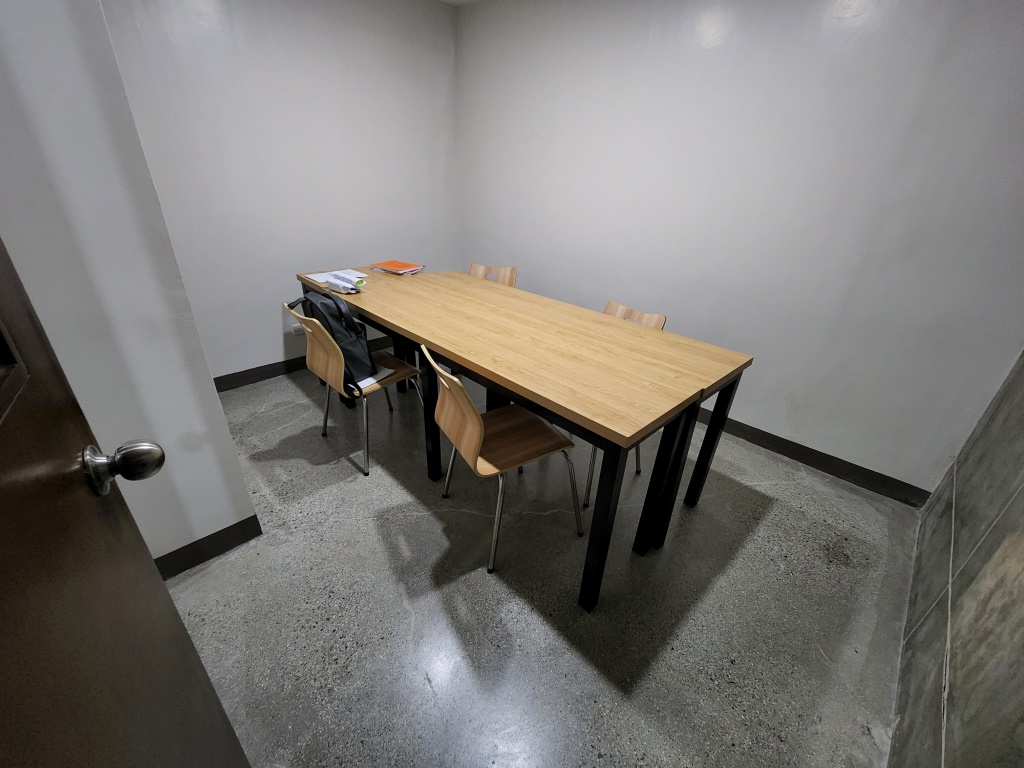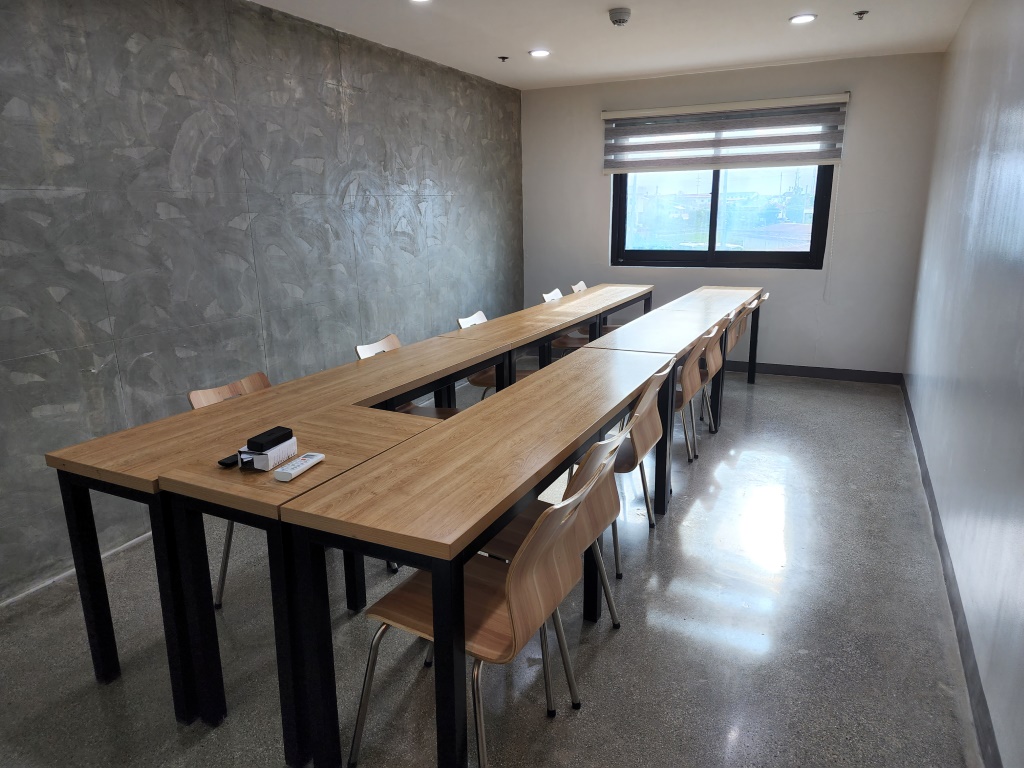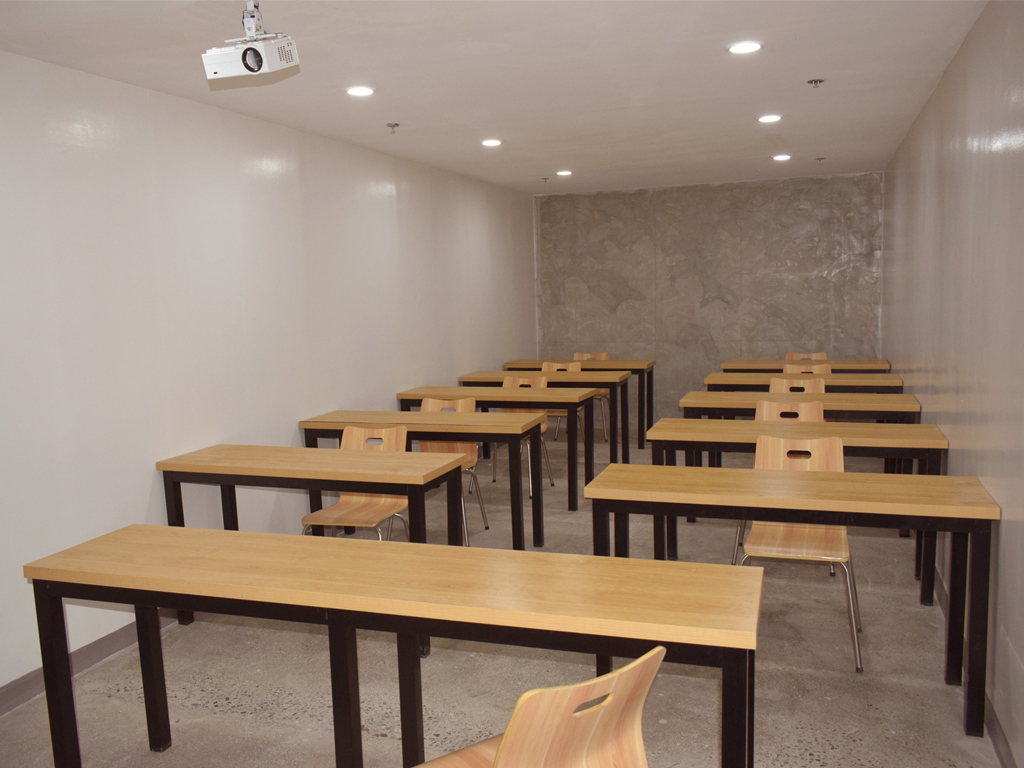 Group classrooms are beneficial for those who are practicing their conversational skills through interactions and discussions with other students. Students are also encouraged to participate in giving presentations, speeches, and debates. We have 253 1:1 classrooms, 17 small group classrooms, 24 medium group classrooms, and 2 big group classrooms.
FACILITIES
---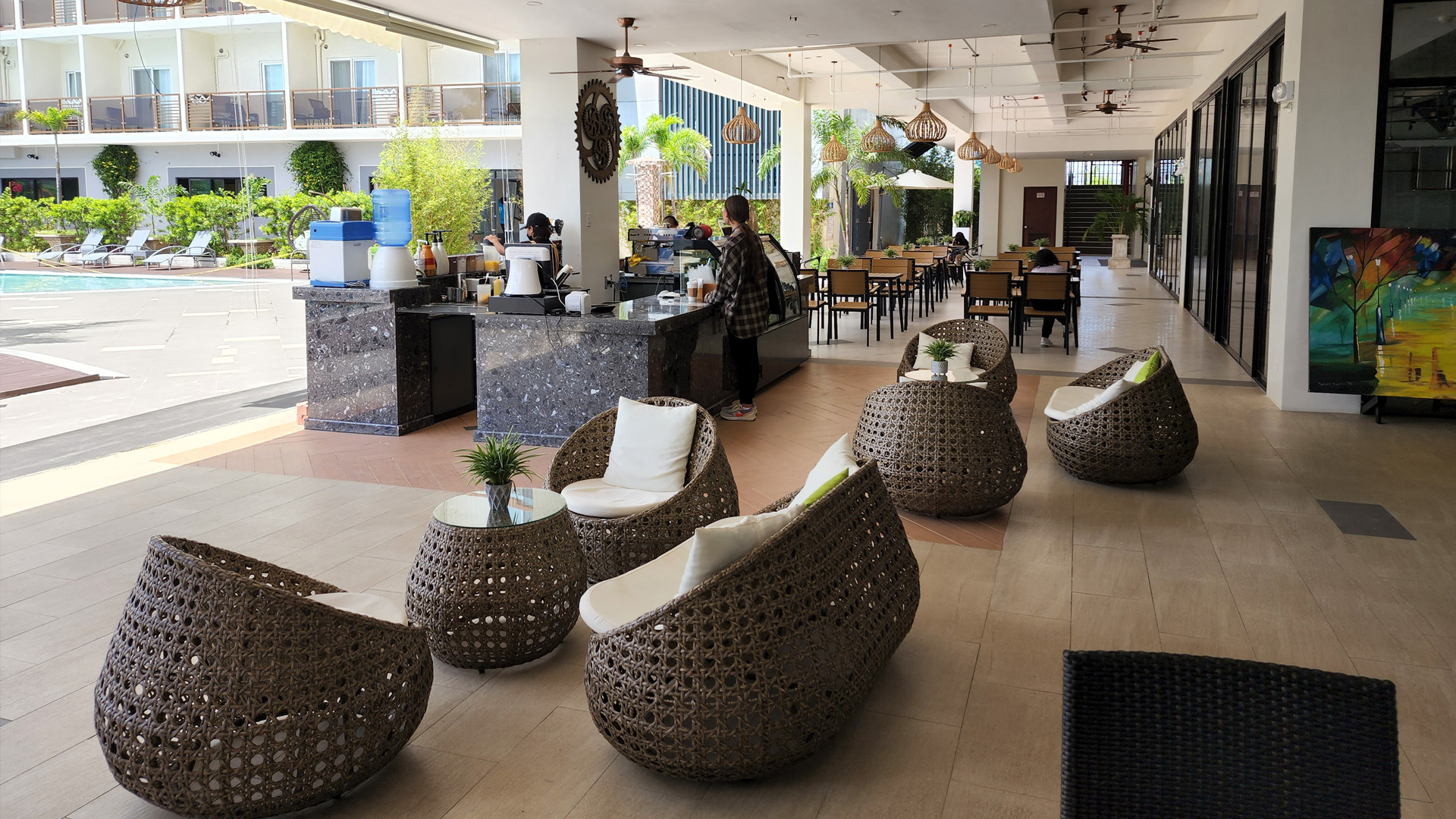 FACILITIES
Everyone can take advantage of our state of the art facilities. We have 2 swimming pools: an infinity pool at the roof deck, overlooking view of the city and the beachside; while the main swimming pool is on the ground floor. We also provide other recreational activities such as Gym, Karaoke, Library, Lounge, and many more.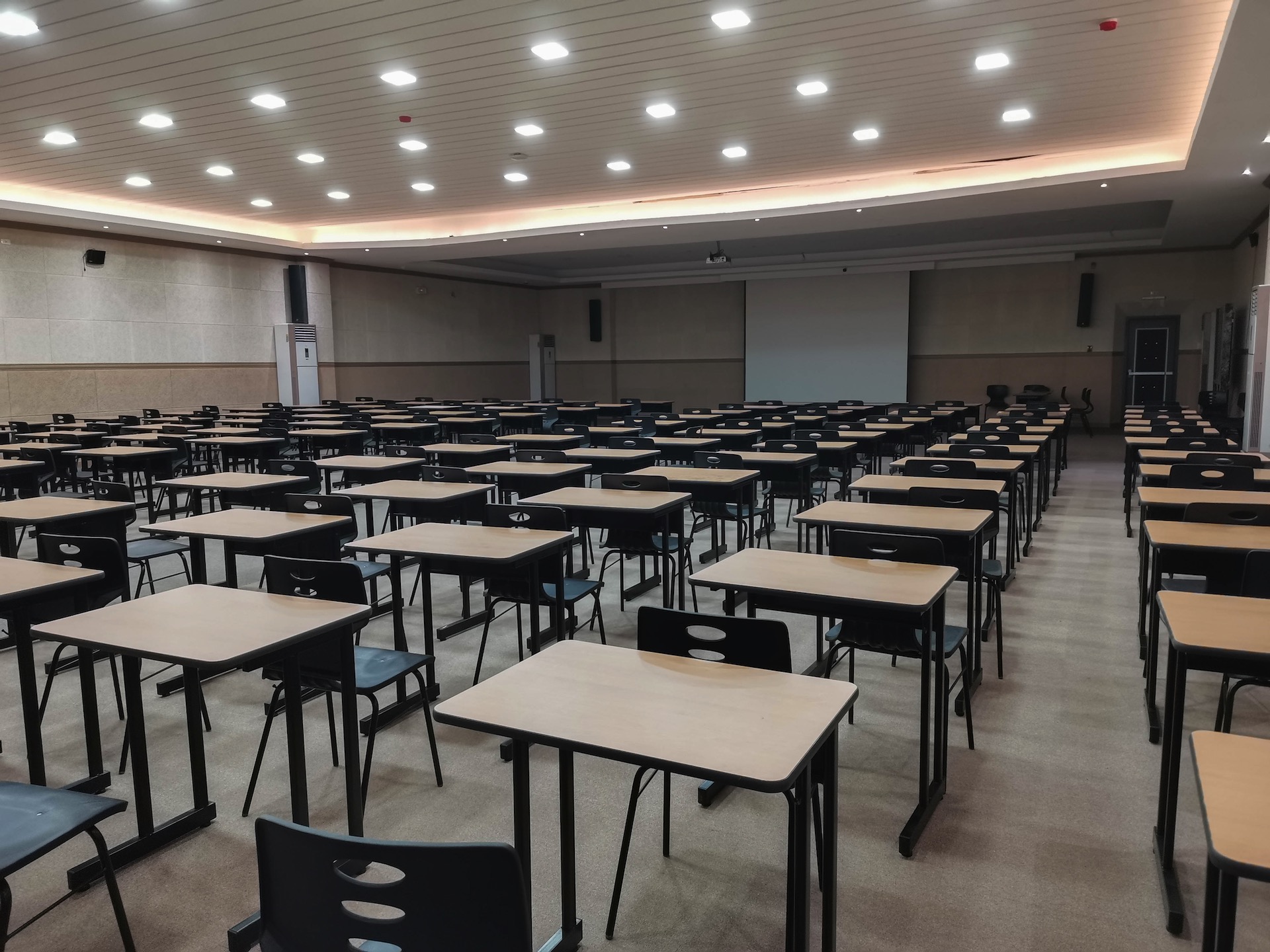 IDP TESTING VENUE
We provide testing venue for students who like to take the IELTS Public Test. A spacious, tranquil room, and conducive for test takers in which students can answer their test without disturbance.
BUILDING 1 – 1st and 2nd Floor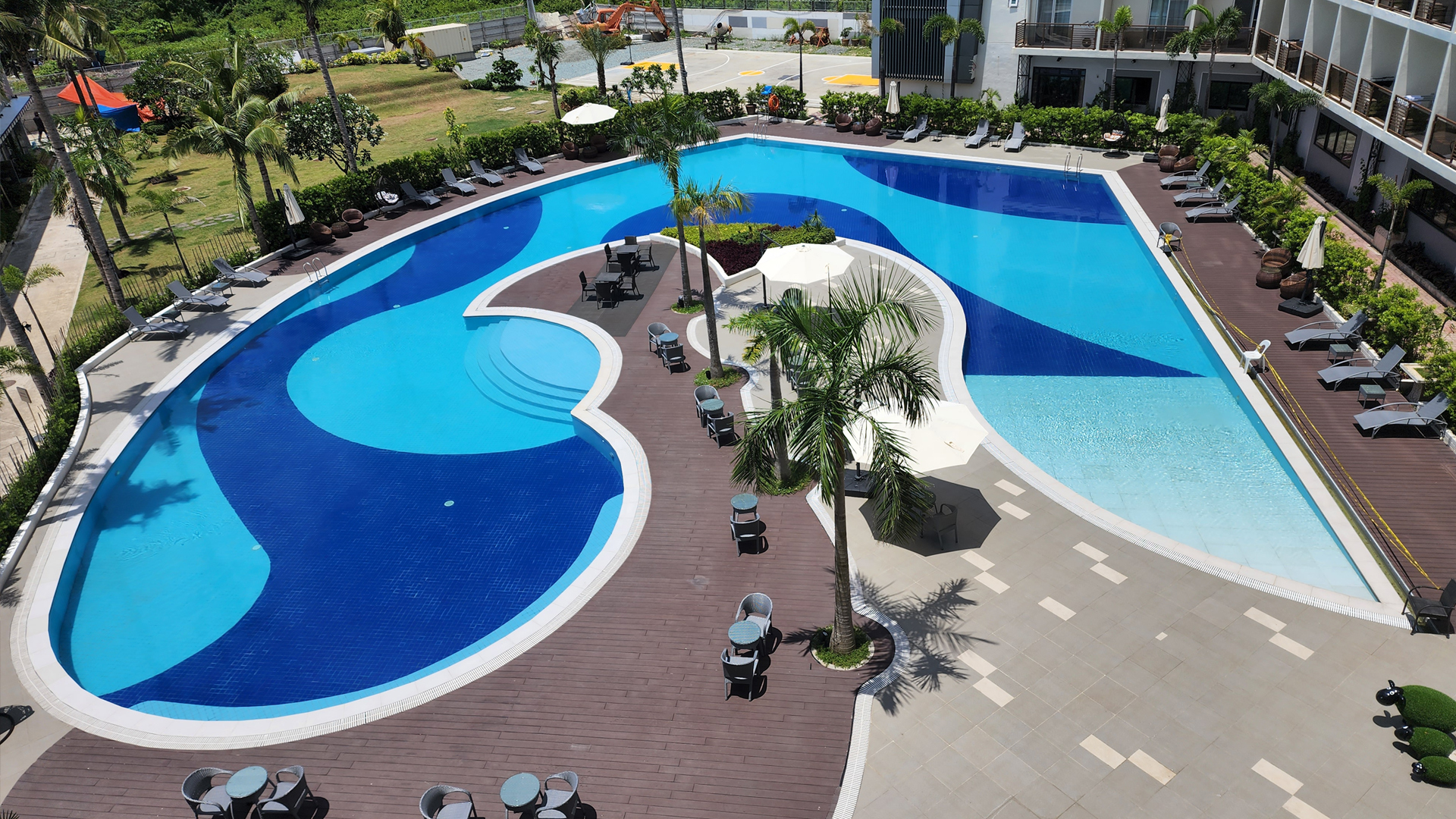 MAIN SWIMMING POOL
Located on the ground floor, our main swimming pool is approximately 50m wide. It has a resort-like view to make students feel like they're on vacation.
Mon-Fri : 7:00 PM ~ 9:00 PM / Sat-Sun: 7:00 AM ~ 9:00 PM
No pushing
No diving
No play-fighting
No running around the pool
Observe scheduled closing time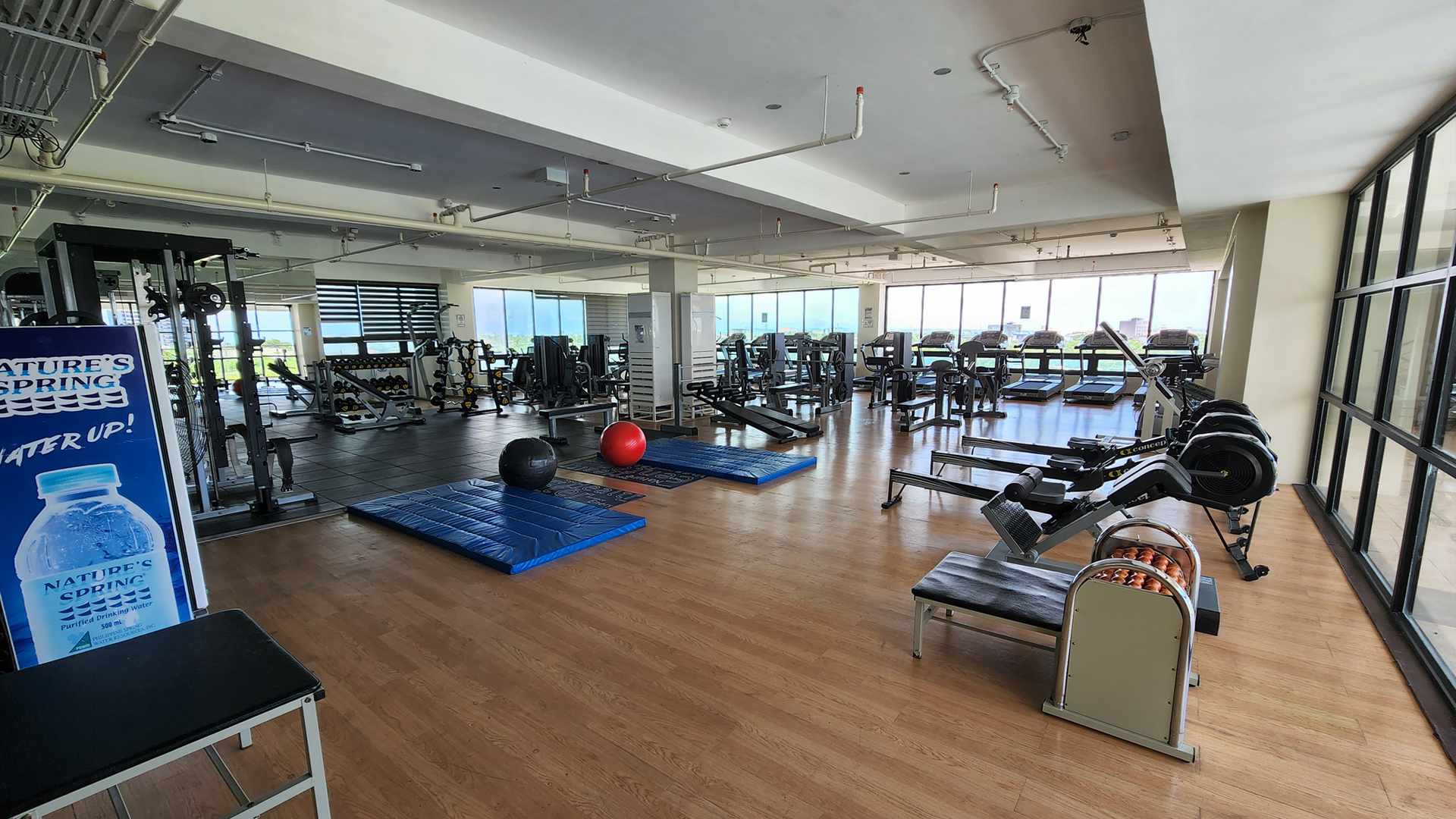 FITNESS CENTER
Students who wish to get fit or stay fit can use this facility. It has its modern fitness equipment for everybody to take advantage to.
Mon-Fri 7:00 PM ~ 11:00 PM / Sat-Sun 7:00 AM ~11:00 PM
Except weekend to make way for lunch / dinner time
Be prompt on what to do when emergency arises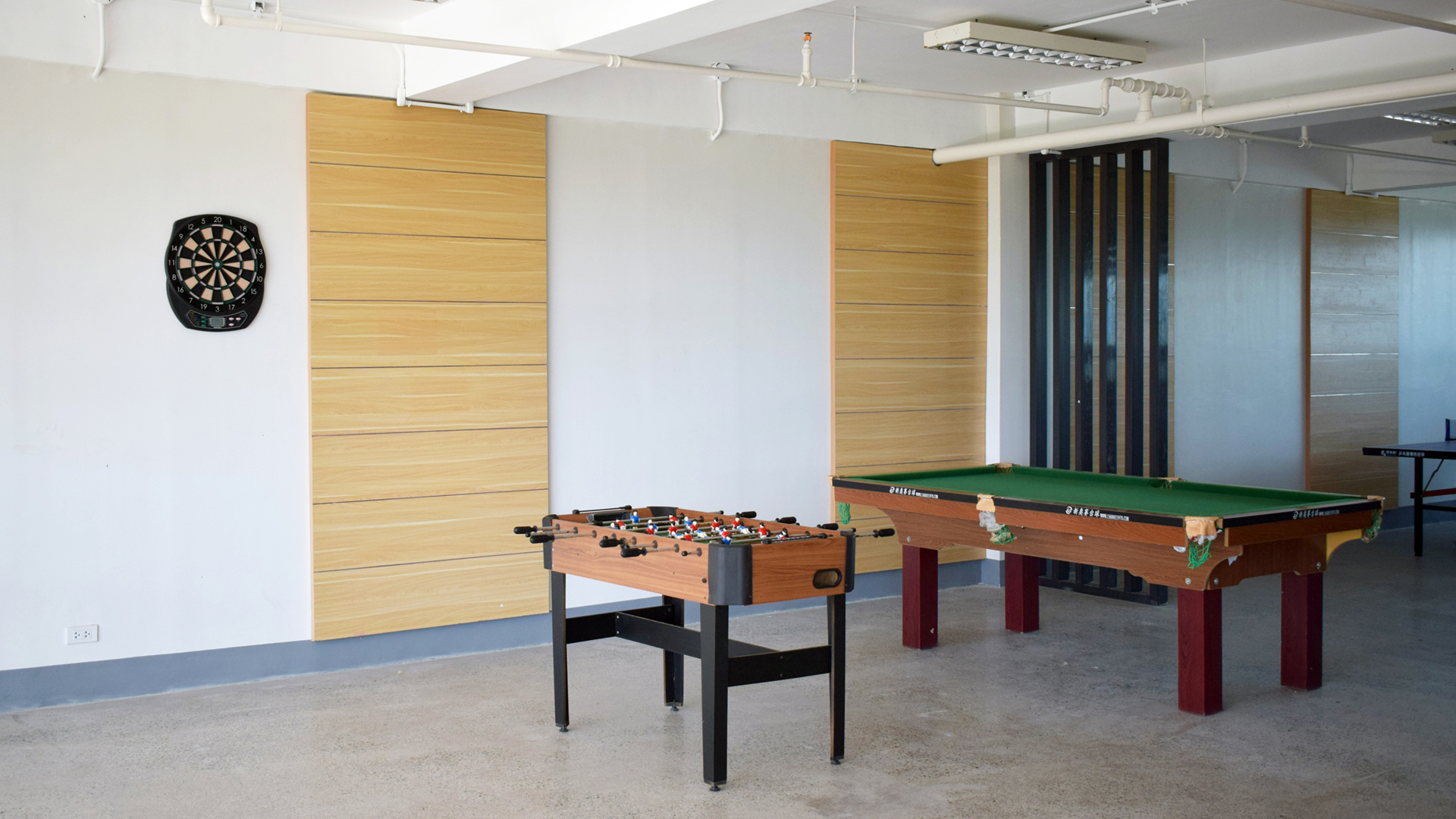 RECREATION ROOM
This facility is used for a variety of purposes such as parties, games, and other casual events. Students may enjoy quality time and is the best place to relax and relieve stress.
Mon – Fri: 07:00PM ~ 11:00PMSat ~ Sun(Holiday) : 07:00AM ~ 11:00PM
Return things from where they are taken.
No food and drinks allowed
No gambling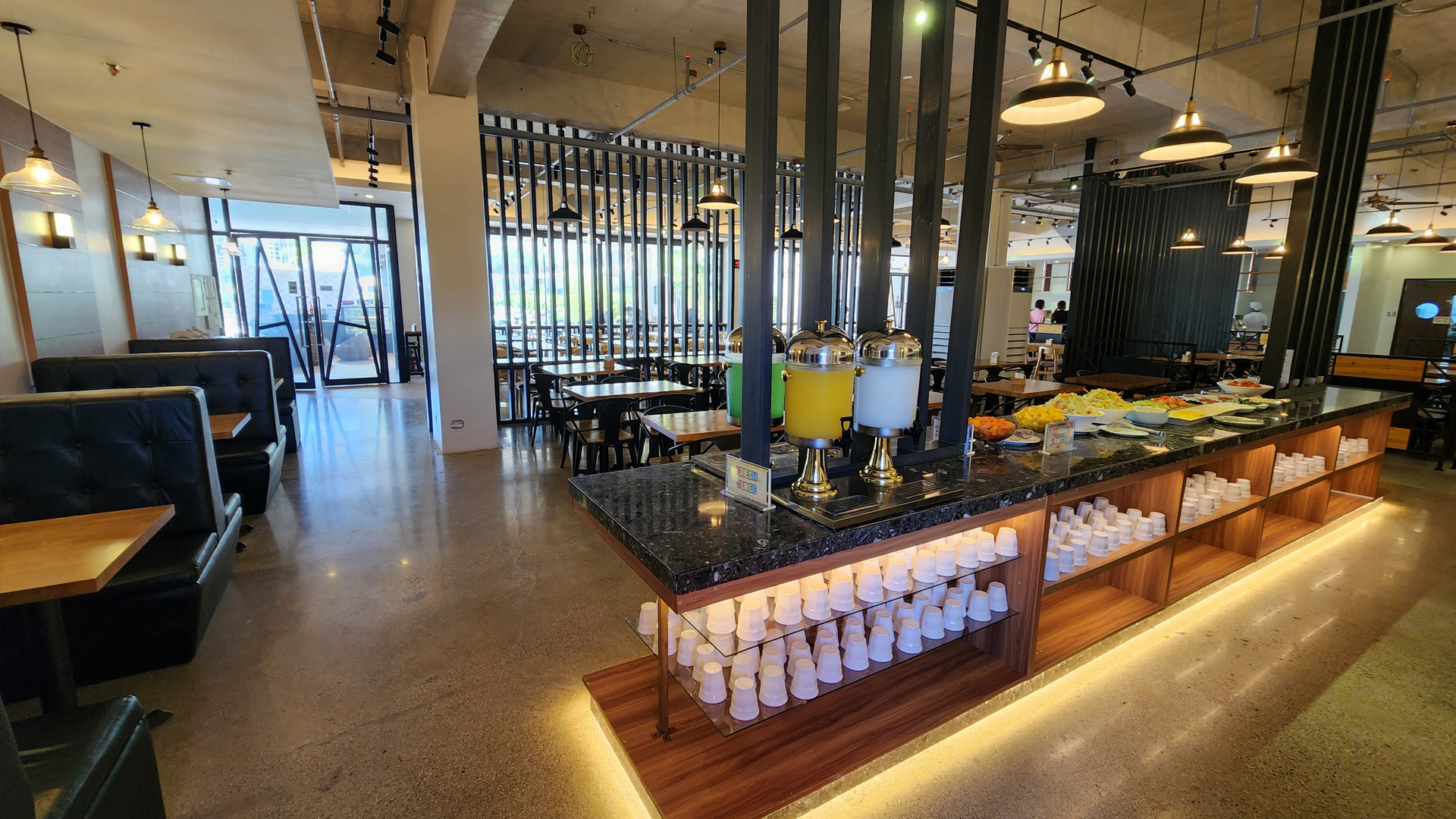 DINING HALL
Dine and eat with co-students and colleagues in our dining hall, an air-conditioned, spacious hall that can accommodate all students. Different types of cuisines are served everyday by our professional kitchen staff to please everyone's appetite.
Mon-Fri : 7:00AM~11:00PM / Sat-Sun: 10:00AM~7:00PM
Breakfast(Mon-Sat : 06:40~8:00)
Brunch(Sun: 10:00~12:00)
Lunch(Mon~Thu : 12:00~13:30)/(Fri~Sat and Holiday : 11:40~13:05)
No bringing of utensils outside the dining hall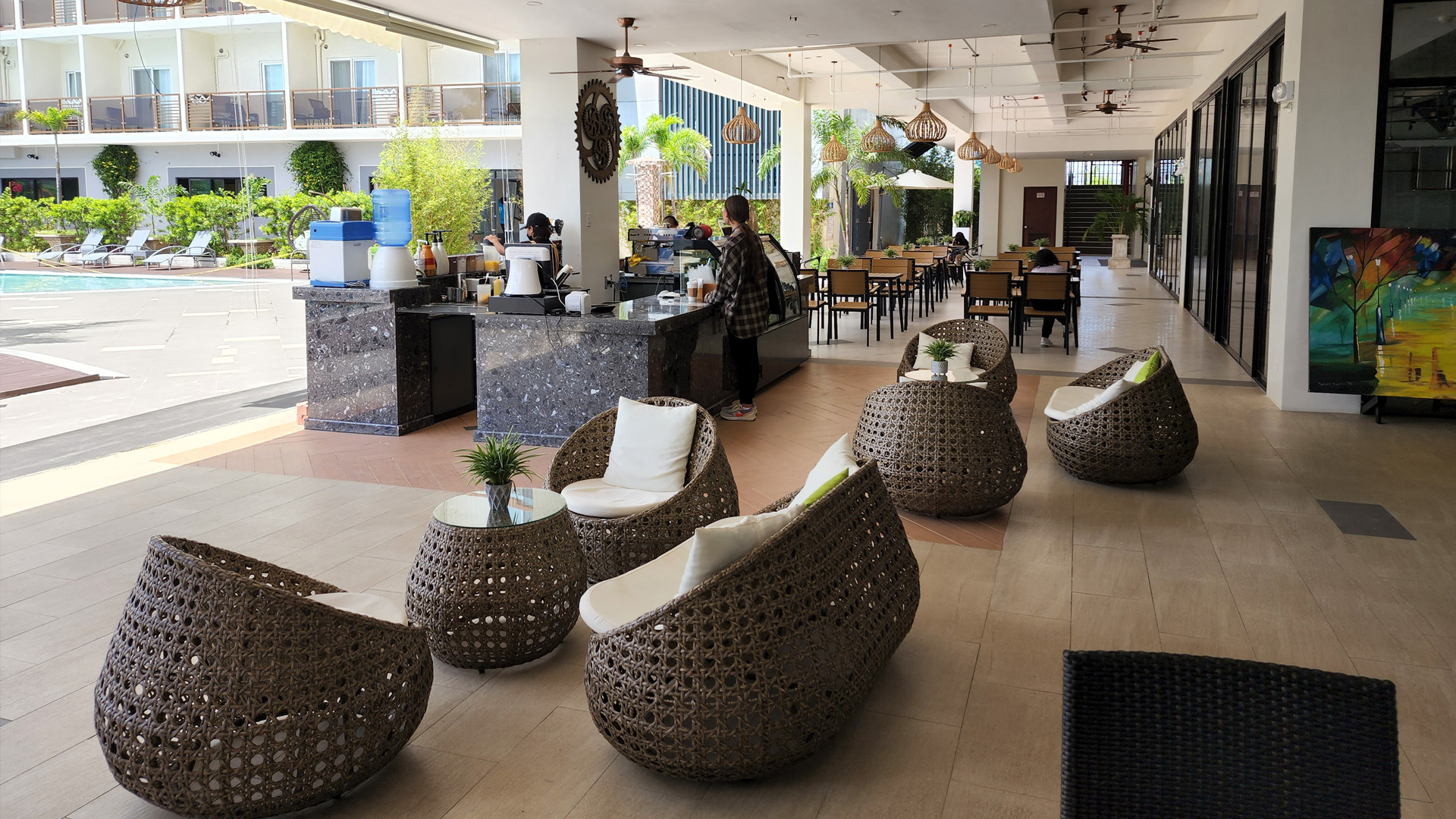 CAFE BAR
Treat yourselves with a cup of goodness. The cafe offers a wide array of drinks and meals to satisfy your cravings.
Mon-Fri : 7:00 AM ~ 11:00 PM / Sat-Sun: 10:00 AM ~ 7:00 PM
Various snacks like coffee, cake, muffins etc. are available here.
No bringing of utensils outside the Café Bar's premises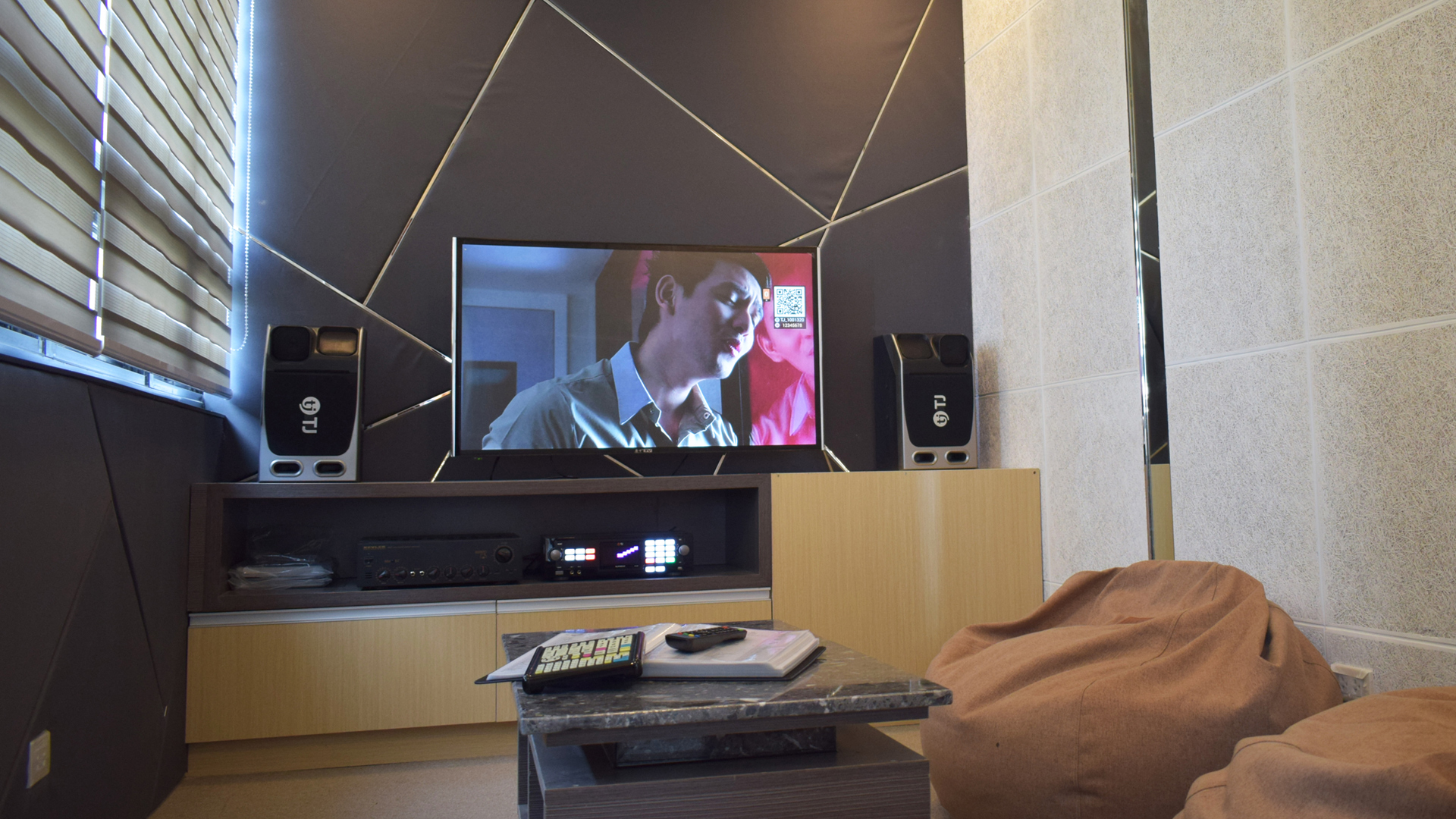 MUSIC ROOM | KARAOKE ROOM
To enjoy with friends or a way to release stress, students can sing their heart out in the music room. It has new and high- end quality musical equipment.
Mon-Fri : 07:00PM ~ 11:00PM / Sat-Sun: 12:00PM ~ 11:00PM
No alcoholic drinks allowed
Available after school time
No littering
Don't leave personal belongings behind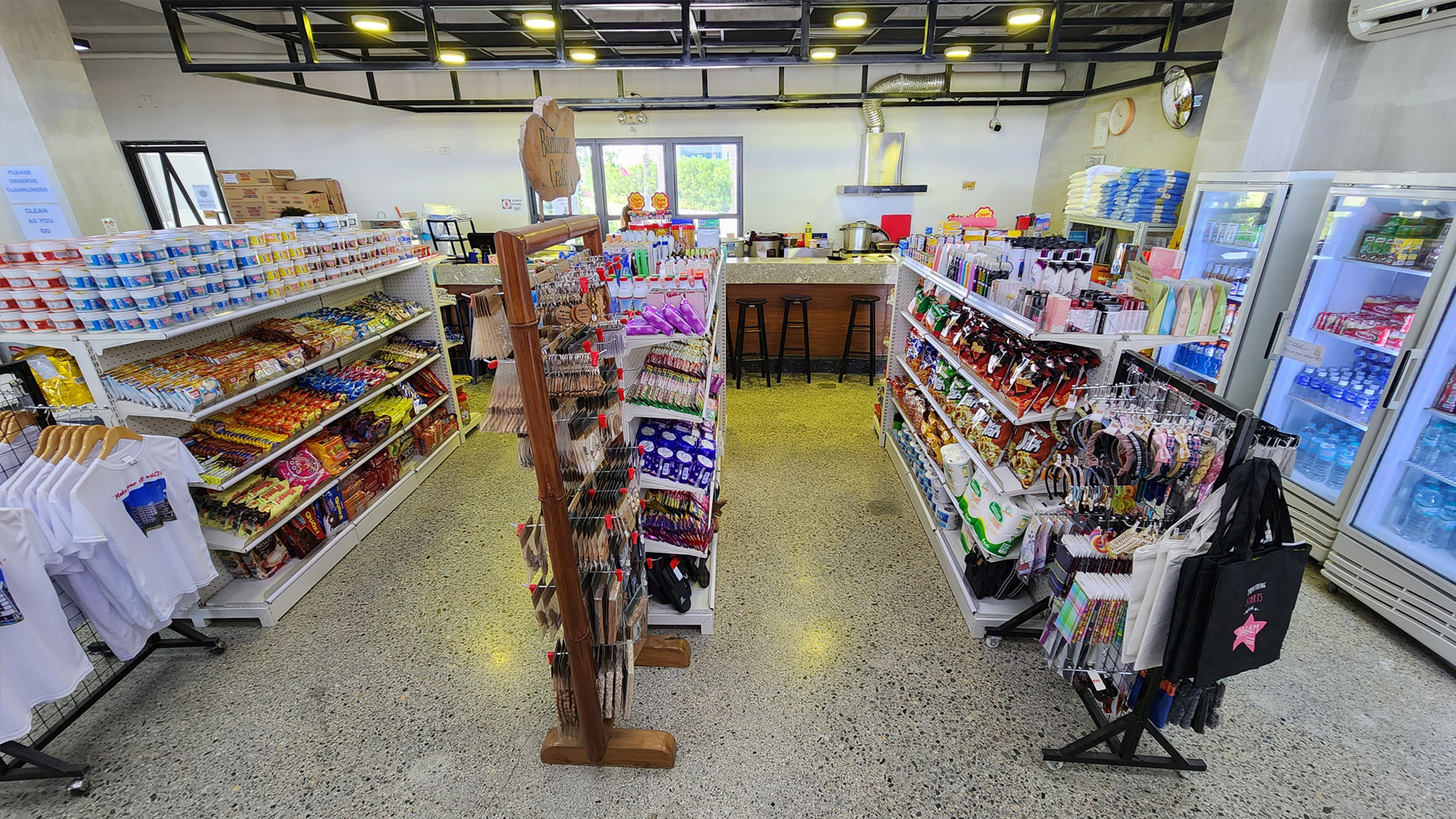 MINI MART
We have a store where you can purchase daily necessities, snacks, drinks, etc. It comes with comfortable chairs and tables outside where you can consume what you bought.
Mon – Fri: 07:00AM ~ 11:00PM Sat – Sun: 10:00AM ~ 07:00AM
Sells various snacks and drink
No bringing of utensils outside the minimart premises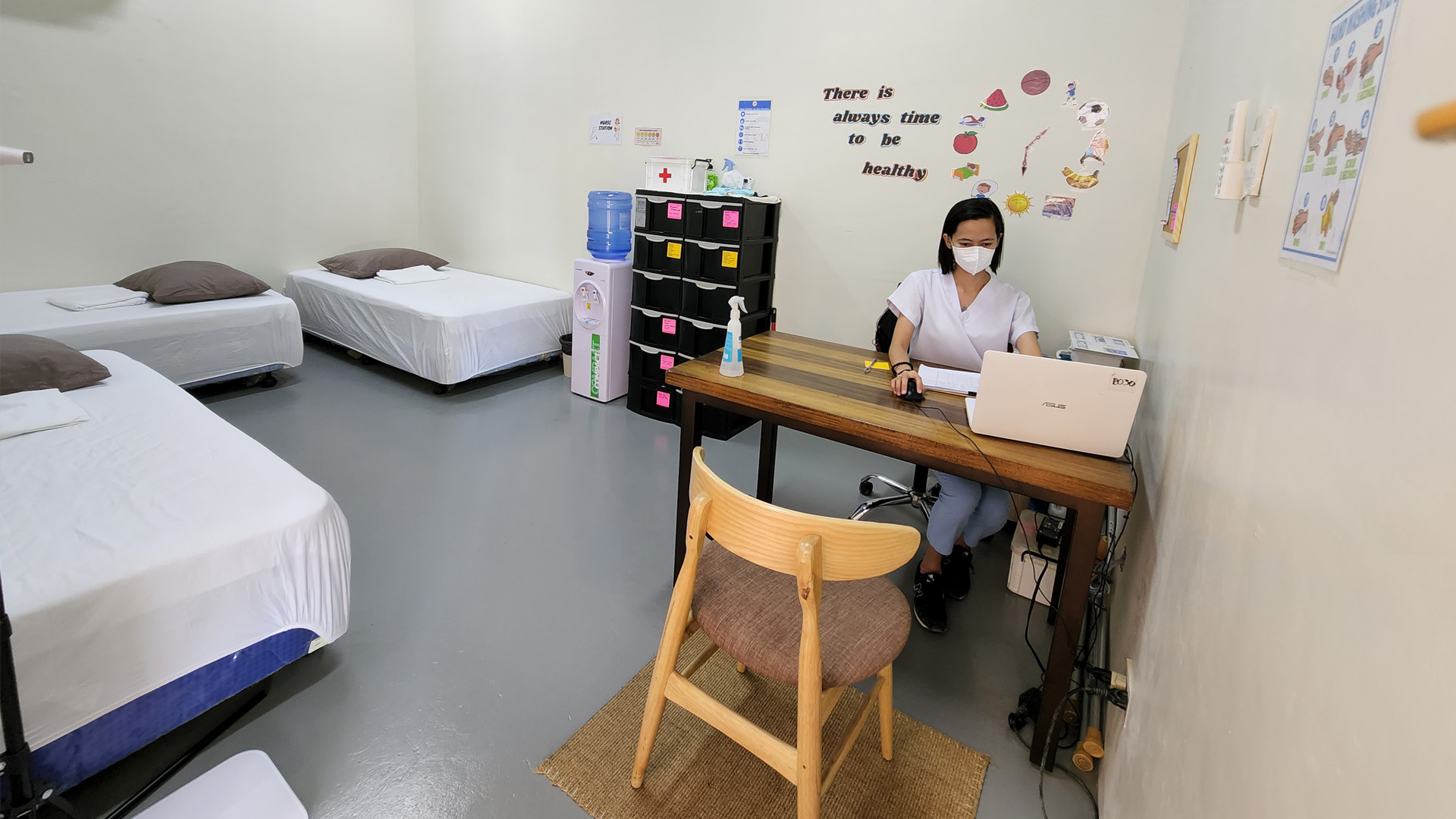 CLINIC
For anyone who needs immediate care, medical treatment for minor ailments or consultations, clinic is a place to be. We have on-call doctors and nurses who are available when needed.
Mon – Fri: 08:00AM ~ 6:00PM (closed on Holiday, Sat, and Sun)
Free antibiotic is given once only
School nurse is available on-call in the Main Office by 9:30AM
For urgent matter, going to the nearby hospital is advised at students' expense.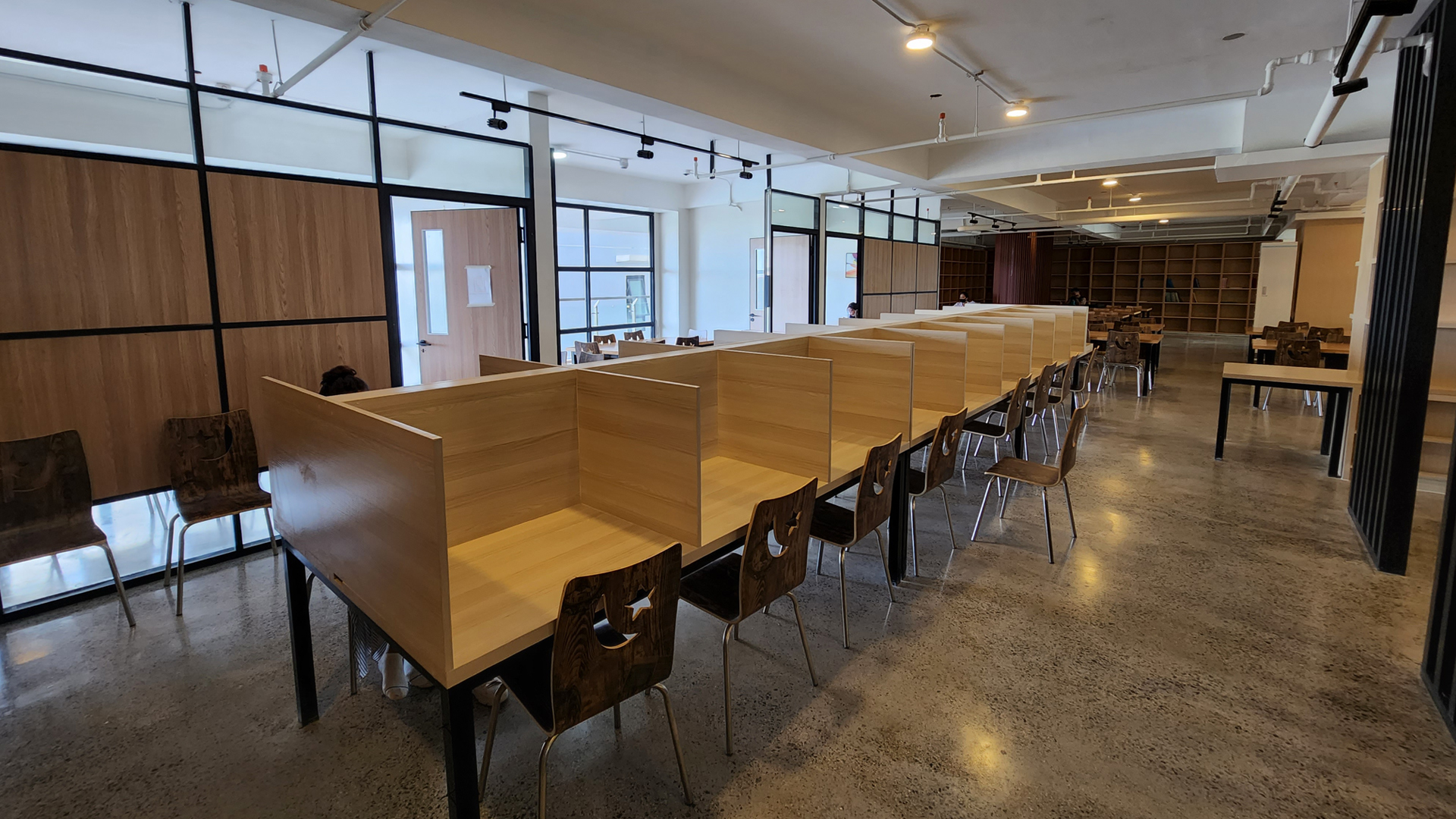 LIBRARY
Campus has two libraries, both located on the 4th floor of Building 2. Variety of books and different genres can be found in both facilities and is also the best place for studying.
Available Daily 7:00 AM ~ 12:00 PM
Silence is observed at all times
No bringing of mobile phones and food inside
No littering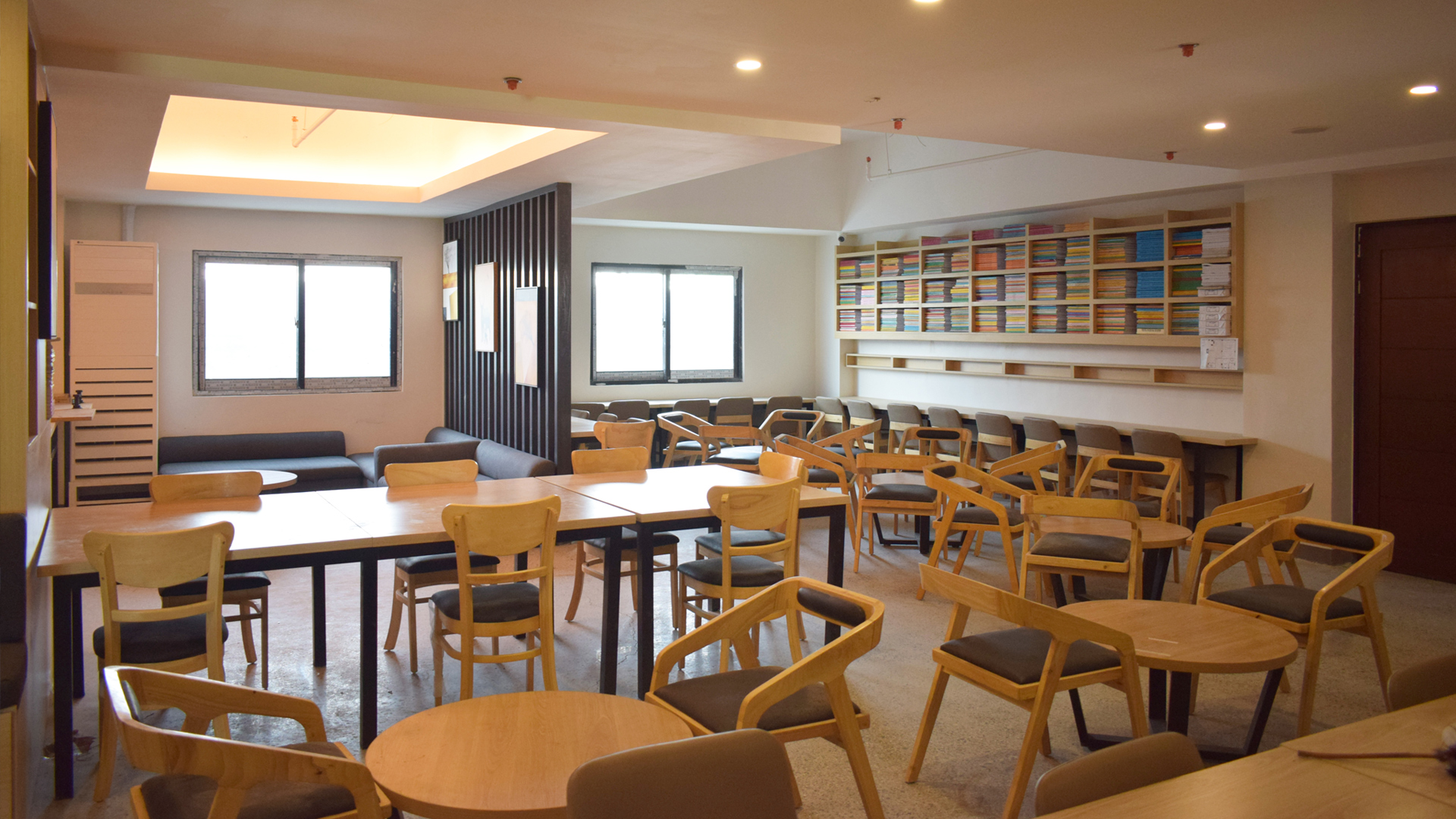 TEACHERS' LOUNGE
A place perfect for free or vacant teachers who can lounge, relax or prepare necessary and relevant materials for classes. It is also a good place to hold meetings.
Mon-Fri : 08:00AM ~ 9:00PM
No loitering
No littering
No students are allowed to enter
Keep it clean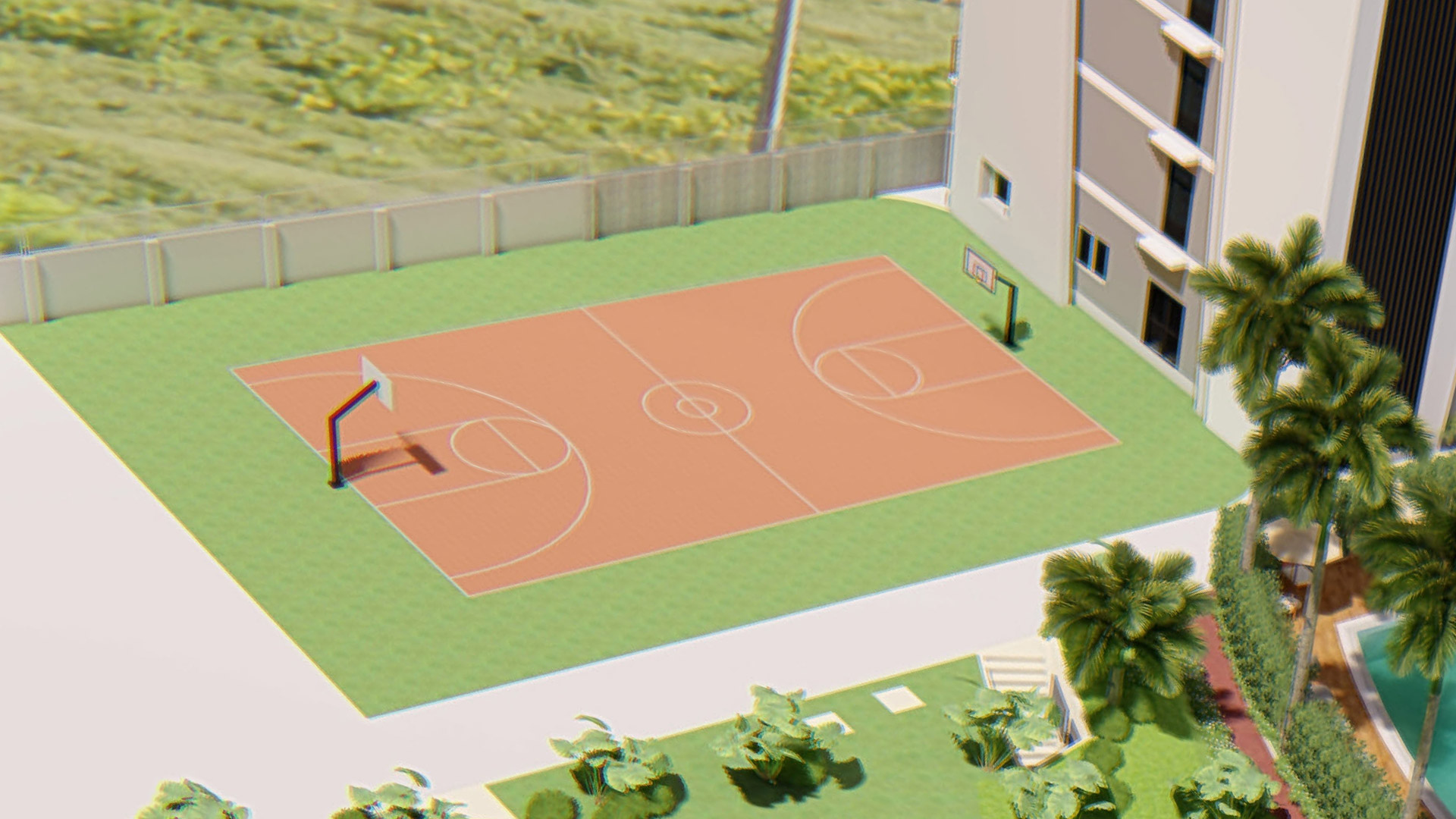 BASKETBALL COURT
A way to relax with friends especially when sharing interest in playing basketball, the basketball court is a place to be. It's a venue for social interaction among students where English can be used.
Mon-Fri : 7:00 PM ~ 10:00 PM / Sat-Sun : 7:00 AM ~ 10:00 PM
Be familiar with the court rules and the hours of use
Watch out for vehicles entering or leaving the school grounds